As a code official, you've probably inspected your fair share of flat plate reinforced concrete framing systems. A flat plate solution is a mainstay of the built environment, especially for office, hotel, and hospital structures. Low-story heights, flat ceiling, and a proven, code-compliant construction methodology make flat plate construction a popular choice for mid- and high-rise development.
Recently the top-ranked architecture and engineering firm in the U.S., Chicago-based Skidmore, Owings & Merrill (SOM), launched a research project investigating the performance characteristics of a hybrid wood and concrete structural floor system that may offer owners, developers, architects and builders with a traditional flat plate construction alternative.
The idea has special significance for SOM, the firm behind many of the world's tallest skyscrapers. The company has a long tradition of researching construction innovations that help advance material economy and optimization, including mass timber applications.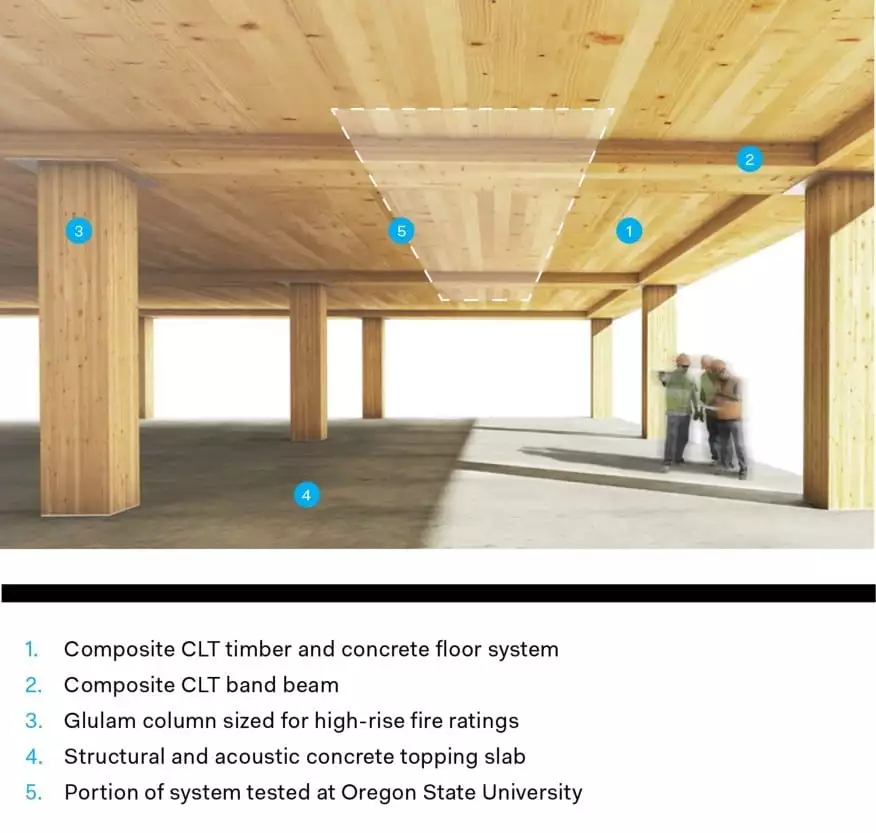 In 2014 SOM investigators teamed up with building scientists from Oregon State University to implement a multi-year investigational study of a hybrid structural floor system composed of cross-laminated timber (CLT) topped with a composite concrete slab. The investigation examined several key behaviors of the hybrid CLT and concrete floor system, including:
Effectiveness of the composite action
Two-way bending stiffness
Continuous beam behavior
The program, known as "Structural Tests of Concrete Composite Cross-Laminated Timber Floors," reveals how a new generation of mass timber products may one day be applied to mid- and high-rise tower applications.
This edition of Code Counts highlights what the investigation determined. For you, as an ICC member, the findings offer an early look at an emerging building technology that may yield economic, structural, installation, and sustainability benefits.
Multiple Objectives
SOM and Oregon State University (OSU), with funding support from the Softwood Lumber Board, developed a comprehensive physical testing regimen of 20 tests of varying sizes and configurations. The study examined hybrid floor system performance for:
Composite timber floor analytical techniques and specimen behavior modeling
Different shear connector types
Two-way bending stiffness properties
Long-term deflections under both positive and negative bending.
Point of failure threshold for a full-scale floor system mockup with continuous slab connections.
For code officials, the point of failure test may be the most instructive for structural integrity. What is the load-bearing performance of a concrete-CLT hybrid floor system?  On August 8, 2017, a floor specimen modeled on a typical structural bay was put to the test.
Structural Stress Test
The specimen was a 5-ply CLT panel measuring 36 feet long by 8 feet wide by 9 inches thick and topped  with a 2-1/4" layer of concrete. "We used a surface treatment on the timber panel like a sealer. Then we used a concrete with a very low water to cement content with certain admixtures to support low water content," explains Benton Johnson, SOM senior structural engineer. The concrete topping was also reinforced with #3 rebar, the smallest rebar at the widest possible spacing. An angled screw system was used to bolt the concrete topping. "The angled approach is something contractors are familiar with," observes research program's project lead, Dr. Andre Barbosa, OSU assistant professor.
The hybrid concrete-timber panel was placed on a hydraulic actuator. Forty-eight sensors recorded the subsequent stress test over a two-hour test phase.
82,000 Pounds
Results: The floor system ultimately supported a load of 82,000 pounds. "That represents about 8 times the required load. In other words, the hybrid floor system could support a 10-foot deep swimming pool," Johnson reports.
All structural tests followed a familiar pattern, according to Barbosa. "As the final report shows, all findings in the research program correlated very well with predicted behavior," the building scientist confirmed. "We now know we may not have to physically test all the time to advance our understanding of hybrid floor system behavior," he says.
European Example
Code officials familiar with European mass timber building practices may ask why extensive benchmark testing is required. European building professionals have built many mass timber structures with concrete-topped CLT floor, the concrete serving as an acoustic barrier. Why not study their example?
Johnson says most of their hybrid floor systems "have been simply supported beams, with the concrete topping in compression. What we're doing is different. We're aiming for continuous behavior from the hybrid system. We're putting the concrete topping in tension, reinforcing it over the supports. Our approach behaves like a concrete structure rather than a timber structure."
Foundational Step Forward
The results are promising for mid-rise building applications. More testing is required for high-rise development, especially studying lateral system behavior. "I know in the Pacific Northwest, architects are already using SOM findings to help them come up with solutions for mid-rise structures," says Barbosa. "Our gravity loading tests help answer basic structural questions."
"The SOM test program is a foundational step in moving forward with a hybrid structural floor system," Barbosa says.
To view SOM's summary of the findings, look here. For a copy of the comprehensive 43-page final report, download here.
The views and opinions expressed in this article are those of the Think Wood and do not necessarily reflect those of the International Code Council, or Hanley Wood.