Their latest test examines how cross-laminated timber (CLT) floor systems, when using a composite concrete topping slab, improves structural, acoustic, and fire performance.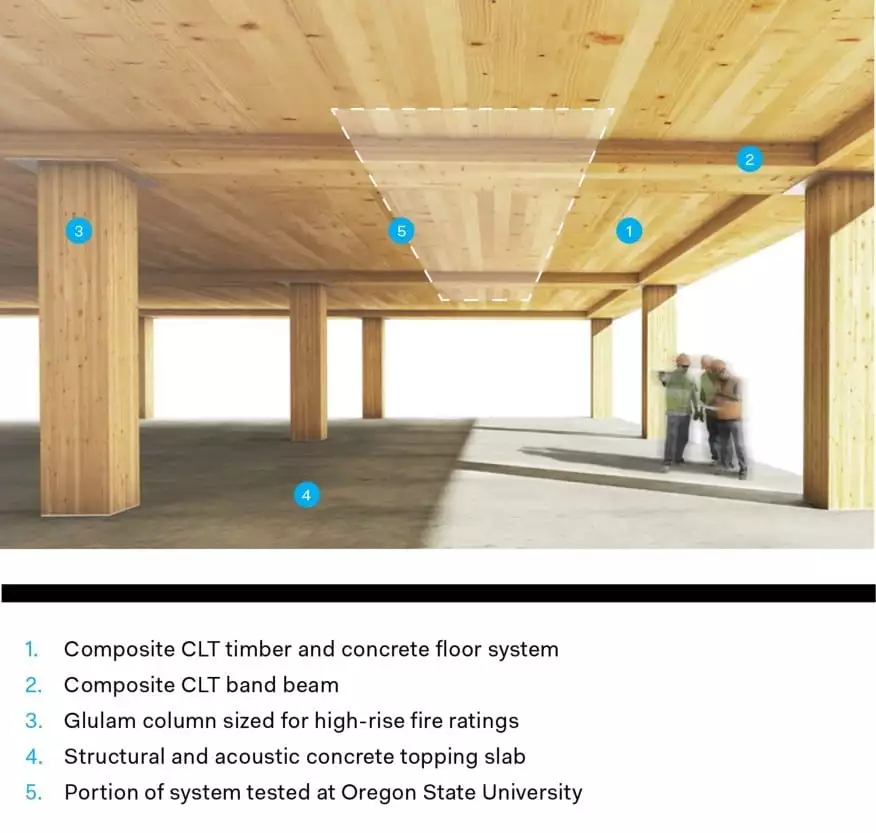 Structural Stress Test
The specimen was a 5-ply CLT panel measuring 36 feet long by 8 feet wide by 9 inches thick and topped  with a 2-1/4" layer of concrete. "We used a surface treatment on the timber panel like a sealer. Then we used a concrete with a very low water to cement content with certain admixtures to support low water content," explains Benton Johnson, SOM senior structural engineer. The concrete topping was also reinforced with #3 rebar, the smallest rebar at the widest possible spacing. An angled screw system was used to bolt the concrete topping. "The angled approach is something contractors are familiar with," observes research program's project lead, Dr. Andre Barbosa, OSU assistant professor.
The hybrid concrete-timber panel was placed on a hydraulic actuator. Forty-eight sensors recorded the subsequent stress test over a two-hour test phase.
82,000 Pounds
All structural tests followed a familiar pattern, according to Barbosa. "As the final report shows, all findings in the research program correlated very well with predicted behavior," the building scientist confirmed. "We now know we may not have to physically test all the time to advance our understanding of hybrid floor system behavior," he says.
Using more than 20 tests on 14 full-scale models, researchers looked at the key behavior of the timber-concrete floor system including the effectiveness of composite action, two-way bending stiffness and continuous beam behavior. The test results show that composite timber floor systems are strong and able to increase the spanning capabilities and two-way behaviour of CLT. This report, along with the initial Timber Tower Research Report and Gravity System Report demonstrate that mass timber is a sustainable alternative to steel and concrete for high-rise buildings.